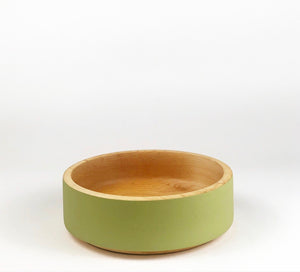 Mini (Maple green smith)
The baby wooden bowls were designed thinking about toddlers, nature, environment and lovely homes. All the materials used are non toxic. The paint is made with milk and the finish is natural Tung Oil and and a wax made wih walnut oil and Carnauba wax, making it safe for food contact and for the environment.
Wood and the colors just make everything cozier!
Material: Maple wood
Measures: 5 3/8" D 1 3/8" H
Hand wash with soft sponge or cloth is recommended. Do not leave to soak. Not suited for microwave or oven.
---